In Memory
Carl W. Stamp (Principal)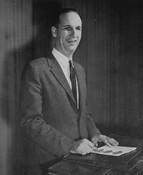 Carl W. Stamp
Carl W. Stamp, 82, of Batavia, a former principal of Batavia High School, died Sunday, February 15, 1998 at Genesee Memorial Hospiital.
Mr. Stamp was born May 15, 1915 in Gainesville, a son of the late William and Lena Wiseman Stamp.
He was a member of the First united Methodist Church of Batavia. He and his wife Marjorie Deighton Stamp celebrated their 61st wedding anniversary October 10, 1997.
Mr. Stamp was principal at Batavia High School from 1960 to 1971 and a past principal at Lewiston high School, Clarence Central School and Pine Valley Central School. He was a member of the New York State Retired Teachers Assn. Mr. Stamp was also an avid pilot who held his commercial and private pilots licenses for many years. He was a charter member and former part time instructor for the Genesee Pilots Association.
Mr. Stamp is survived by his wife Marjorie, a son William (Susan) Stamp of Woodlawn Park Colorado, and a daughter Donna (Gerald) Church and five grandchildren. Mr Stamp was the brother of the late Velma Tice.
There are no callling hours. A memorial service will be at 11 a.m. Wednesday at the First United Methodist Church. Burial will be in Gainesville Cemetery. Memorials may be made to the American Heart Association or to Houghton College.