In Memory
Carl M. Voorhees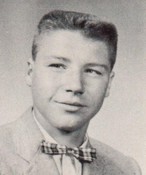 Carl M. Voorhees March 31, 1943 - September 18, 1999
Carl M. Voorhees, 56, formerly of Rugby Square Apartments, Syracuse, died Saturday, September 18, 1999, at Van Duyn Home and Hospital.
Born in Stafford, New York, he lived in Syracuse 11 years. He retired as a cab driver.
Survivors: His wife Joan; three sisters, Frances Whalen of Alexander, Louise Tiede of Batavia, and Kathy Voorhees of Stafford.
Services: 10 a.m. Thursday in the chapel at Duyn Home and Hospital. No calling hours.
Butler-Badman Funeral Home, Onandaga Hill, has arrangements